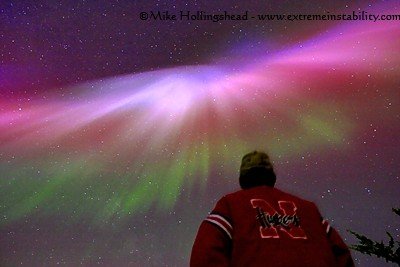 Photo courtesy of Mike Hollingshead

In 2000,
shortly after the Y2K scare, I helped a friend move from Wisconsin to her old home in Alaska. She has two children, so a road trip was out of the question. I had the time available, so I drove her car from Kenosha to Anchorage. It was a 4-day trip I'll never forget.
Perpetual sunlight is something everyone should experience.
I've been a city boy my whole life, so seeing young bears running across the road and a moose hanging out in the backyard was a mind-bending experience. The air around Anchorage smelled like flowers everywhere I went. Nature takes advantage of the few weeks of warm weather by going in fast-forward. I swear I could see the grass growing!

Since it was early in the year, I was bummed to be missing the Northern Lights. But thanks to a random google search I did this morning, I just discovered that the Northern Lights are closer to home than I realized. From SpaceWeather.com:
"Contrary to popular belief, you can photograph auroras in places like California and Florida about once a year. The trick is knowing when to look. (2) September, October and November are consistently the best months to see auroras. Why? It's a bit of a mystery."

The fact that I lived my whole life without knowing till now that I could witness nature's best light show makes it a little more clear just how
rich this world is with diverse beauty
. Makes you want to go grab your camera, doesn't it?